How we developed the DMP
This Destination Management Plan has been developed over a 9 month period. It has been steered by a Project Group comprising representatives from Thanet District Council, key public agencies and the local industry. We have also met with further industry representatives and Council staff, presented to key groups and facilitated workshops and action planning sessions at stages throughout the development of the Plan to ensure there is buy-in to the process and the recommendations. Over 60 people – businesses and people working in the public sector - have contributed their views and been involved in helping to shape this Plan.
As part of this project, VisitKent has undertaken primary research to find out more about leisure visitors to Thanet including a survey of the views of 861 people who live, work and visit Thanet. They have undertaken a market segmentation profile of nearly 2,000 visitors to Thanet to find out more about people who are coming now and drawn on perceptions research of over 4,700 people to understand what they think about Kent as a destination. We have reviewed all the existing plans and current activity because the DMP is about adding value not about covering well worn ground and duplicating what is already happening. Visit Kent has produced a policy and strategy context paper as part of the outputs of this project and this is available as a separate volume. We reference and draw on that work here to demonstrate how the DMP will contribute to delivering regeneration and economic development policy for Thanet and for Kent.
We have reviewed the markets and identified a new market segment for Thanet that has a strong fit with the market opportunities identified by VisitEngland. We have looked at what Thanet needs to do to maximise the potential of that market over the next three years.
We have also developed a Shared Story for the destination as a way to describe what is special and different about the place, that everyone can use when they are planning how to invest in improvements and new experiences, and when they are talking to people who don't know the place. It has informed the DMP actions.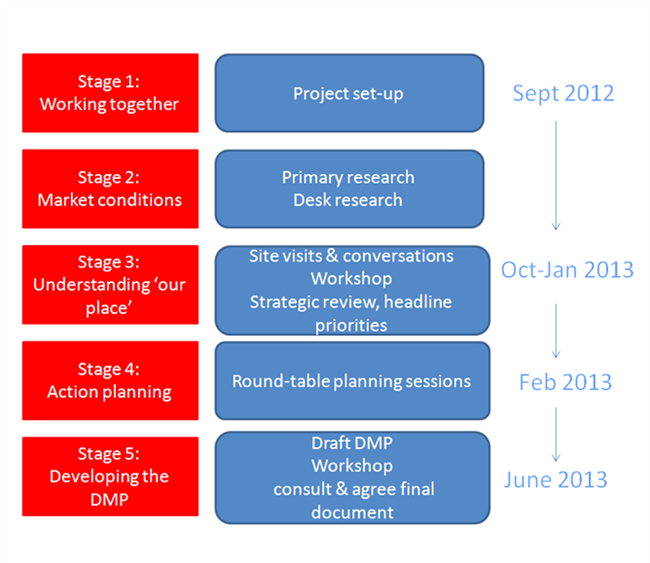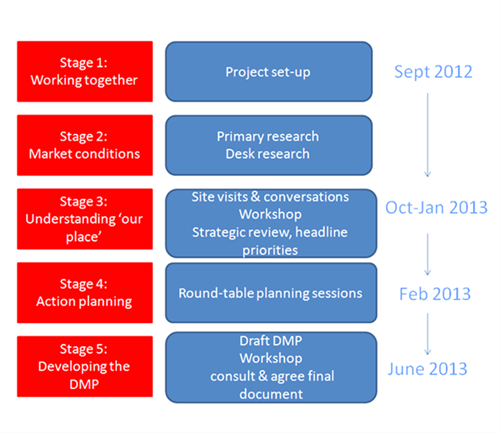 The DMP process has identified three areas for priority over the next five years. These are additional activities and need additional resources to make them happen. The process of developing the DMP has also demonstrated an appetite for tourism industry networks and for groups that enable the industry to be involved in the DMP delivery; Project Delivery Groups are built into the DMP project plans to enable this.
What we want to achieve
Thanet is a well-established visitor destination on the Kent coast, known for its sandy beaches and the three coastal towns of Margate, Ramsgate and Broadstairs, each with a distinctive history and personality.
The three seaside towns
Margate – the original seaside resort – has a strong place in the English psyche, for its long-standing reputation for traditional seaside fun, now mixed with added cultural and creative edge.
Ramsgate – with its Royal Harbour, ferry terminal, and Marina – faces the Continent and can feel quite cosmopolitan – witness its burgeoning waterfront bars and restaurants.
Broadstairs – with its clifftop promenade and retro '50s coffee bars, overlooks a quaint quayside, fishermen's cottages and sandy beach. Everything is on an intimate scale. Dickens' presence is palpable.
It has an interesting seaside heritage and a growing cultural offer. Recent investments in Turner Contemporary, new plans for the Dreamland site and the regeneration of Margate's Old Town and the redevelopment of Ramsgate Harbour have been complemented by private investment in a small but growing number of distinctive, quality places to stay and places to eat and drink. Some of that investment is by long established local businesses and some from inward investment by new small businesses. Thanet is beginning to attract people from London to live, invest and visit and wants to attract more visitors, for them to spend more and for more of them to come for a short break rather than a day trip. It wants to invest in culturally-led tourism regeneration and to support quality.
To achieve these objectives, partners in Thanet will:
Deliver quality experiences for existing markets, develop new experiences to grow market share and attract new higher spending visitors looking for short-breaks
Present the three towns more strongly together, playing to the strengths of each and making it easy for the visitor to explore along the coast and to get around
Invest in the experience of its beaches, Thanet's strongest natural assets – their development and management
Prioritise investment in new quality character accommodation to enable Thanet to grow the short break market - to achieve longer stays and higher spend
Make more of its location – the Isle, the big skies, the natural coastline and importantly its proximity to London by high-speed train and the market opportunities that bring
Stimulate the environment to encourage investment in new quality visitor attractions, visitor experiences and places to stay.
How we are going to get there
Thanet will:
ESTABLISH NEW ways of working which are driven by a partnership between the industry and the public sector, where Thanet District Council acts as catalyst, facilitator and partner
Recognise that collaboration across Thanet can build a critical mass of experiences and collaboration with East Kent more widely can open up further opportunities
Tackle some of the barriers to making things happen
Ensure tourism is one of the drivers of the local economy and put steps in place to enable that, including supporting tourism business sustainability, growth and inward investment
The big picture
Tourism and the visitor economy is a priority in Thanet. There is a range of strategies and policy documents that recognise the importance of tourism and identify some of the barriers to growth. The Thanet Sustainable Community Strategy highlights current low visitor spend and the need to attract staying visitors because they have a higher value, and the Thanet Economic Strategy recognises the value of the visitor economy and the need to develop a Destination Management Plan to steer and align tourism activity.
A report to the South East LEP[1] states that the coastal communities of the south east account for 1 million people, (25% of the LEP's population), but these communities are in areas of social and economic disadvantage, well behind LEP or even national averages. The report recommends - there is a good case for a bid to the Regional Growth Fund to support seaside tourism. This would be a practical way for the South East LEP to encourage growth and jobs.
The visitor economy is at the heart of the Council's Corporate Plan and this DMP has a strong fit with the following six priorities in the Plan.
We will support the growth or our economy and the number of people in work (Priority 1)
We will support our community and voluntary organisations (Priority 3)
We will support excellent and diverse cultural facilities and activities for our residents and visitors (Priority 8)
We will support a broad range of sports, leisure and coastal facilities and activities (Priority 9)
We will influence the work of other agencies to ensure the best outcomes for Thanet (Priority 10)
We will protect and preserve our public open spaces (Priority 11)
Thanet Corporate Plan 2012-16
[1] The Coast Communities of South East England, Recommendations to the South East LEP
The Thanet Regeneration Board identifies culture, heritage & tourism, the green economy, business growth, investing in assets and skills for employment and growth as the strategic priority themes for economic growth and regeneration.
This DMP responds to all these plans by providing clear recommendations. It focuses on a small number of strategic projects that can help realise potential, grow the visitor economy and deliver local and regional aspirations.
The newly launched East Kent regeneration blueprint, Open For Growth and East Kent's bid to become the UK City of Culture in 2017 are examples of Kent's confidence, drive for inward investment and commitment to culture and the visitor economy. In addition, Expansion East Kent, (the Regional Growth Fund Programme) is providing a £35 million programme of financial support to businesses seeking to invest in East Kent to create jobs. This DMP is well-timed to put in place new working partnerships and initiatives now to help capitalise on these and other opportunities as they progress.
In 2011 Visit Kent led on a European funding bid to develop the CAST (Coastal Actions for Sustainable Tourism) programme. Working collaboratively with coastal districts, the programme of work culminated in a shared vision for the development of Kent's coast and a clearer view of how and where the coast's visitor economy should be heading to retain its unique sense of place. The new EU Seaconomics programme is the successor to CAST.
Kent County Council's Blueprint for the Future recognises that Kent's coast is already coming back to life and by 2020 will have the UK's most distinctive and thriving coast. The 2013-2015 Business Plan for Visit Kent has specifically identified the need to support destinations to develop Destination Management Plans in accordance with the Visit England Gold Standard, as a basis for not only best practice destination development but also to inspire local strategic planning and funding bid development.
At national level the English seaside warrants special mention because of its unique set of assets, challenges and opportunities. English Heritage provides a check list for local authorities responsible for coastal regeneration and Visit England has published a dedicated Seaside Action Plan to help maximise the potential of seaside resorts and grow the domestic visitor economy by 5% year on year. The Department for Communities and Local Government sets out a vision for seaside towns in its Strategy for Seaside Success.
However, there remain some big challenges for coastal tourism. The Kent Tourism Framework (2009) identifies three big questions - how to reach a position where individual towns work together to attract greater visitor interest rather than compete in the same markets; how to tackle the reduction in the amount of visitor accommodation which makes it difficult to attract more short breaks; and how to address the under-investment that has happened over time in the visitor economy infrastructure. This DMP is about tackling these challenges.
The Kent & Medway Tourism Development Framework identifies on-going investment in regeneration programmes and focuses on local distinctiveness as the way forward. The DMP identifies achievable actions to encourage investment in seafront infrastructure and in new visitor accommodation over the next five years. The Shared Story provides a route to help businesses market and capitalise on Thanet's distinctiveness in a joined up way.
Each of Kent's major coastal towns has seen a major reduction in their visitor accommodation stock over the last 20 years. The situation appears to have stabilised and new investment is now being made. However the towns share a need to attract more, better quality visitor accommodation in line with modern-day visitor expectations and to capitalise fully on the significant investments and improvements being made.
Kent & Medway Tourism Development Framework – Kent County Council
The DMP delivers against the following strategic objectives of the Kent & Medway Tourism Development Framework, namely to:
Help existing businesses improve their performance and develop further, in line with evolving market requirements
Identify, encourage and support additional visitor economy businesses and facilities that will enhance Kent's attractiveness as a destination and increase market penetration, particularly through generating more staying visits
Make the most of opportunities for visitor economy development afforded by on-going investment in regeneration programmes and projects
Focus on local distinctiveness to enable Kent and its individual destinations to stand out from the crowd but also combine to offer a range of complimentary offers to potential visitors
Ensure that key public and private sector players work together as effectively as possible towards achieving agreed tourism development priorities;
Improve the skills of people who work in Kent's tourism industry and the quality of welcome and service received by visitors
Deliver and sustain a quality tourism product for visitors.
The Coastal Communities Fund, Interreg V and Arts Council Funding programmes all offer potential sources of funding to help support the new activity set out in this DMP. The DMP partners are in conversation with the Arts Council about support for specific projects and DMP projects are being included within EU funding bids. The detail is set out in the Project Plans at Section 8.
Priorities for the next five years
Research shows that visitors are overwhelmingly attracted to Thanet for its beaches and coastline. It is essential that Thanet delivers an excellent quality experience along its coast and invests in the experiences on its beaches and along its seafronts. To attract more visitors and more overnight trips, Thanet needs more character places to stay and a wider range of things to see and do during the day and in the evenings. It also needs to present a distinctive offer in the marketplace that plays to its strengths and ensures tourism businesses support that through their marketing and investment. The headline priorities for the DMP over the next 5 years are designed to help deliver these priorities:
Beach management and development – to deliver a programme of prioritised beach-by-beach improvements, informed and steered by a new Beach Management Delivery Group, and to identify and deliver community and industry-managed beaches that are freely available to everyone and which incorporate the best creative and commercial ideas to enhance quality, protect the environment and deliver new distinctive experiences
Coastal regeneration – to make a stronger case for tourism regeneration in specific underused or derelict coastal buildings and target inward investment to those specialist developers who can inject creative solutions and deliver new quality developments – large and small - that reinforce what is distinctive about Thanet and create much needed character accommodation
Telling our stories – using the Shared Story developed for the DMP to create
a stronger sense of place through a joined-up approach to marketing, information and interpretation, including helping small tourism businesses improve the quality of their marketing through skills development and support. The emphasis is on business engagement, support for the DMP and delivering a consistent quality product.
How will we measure success
We will use the following indicators to measure progress.
Higher profile of Thanet as a place to visit for quality English coastline and seaside towns
Numbers of jobs created and sustained
Growth in volume and value of tourism
Number of bed spaces and room occupancy
Greater community pride and cohesion between the coastal towns
Stronger industry and public sector partnerships
Greater visitor satisfaction.