Working in partnership to promote our resorts and villages and support Thanet's tourism businesses, is essential to growing the number of visitors to the district.
Broadstairs Information Kiosk -  hopes to reopen Friday 24th June 
Broadstairs Information Kiosk is a joint partnership between the Thanet Visitor Information Service, Broadstairs Tourism and Leisure Association, Broadstairs and St Peter's Town Council, Broadstairs and St Peter's Chamber of Commerce and Shepherd Neame.  
A trained team of volunteers assists visitors and local residents with visitor information. 
To find out more, contact Gina Harrison, Kiosk Manager
Email: info@broadstairsinformationkiosk.co.uk
Royal Albion Garden Kiosk
Promenade
Broadstairs
CT10 1AN
The kiosk is open seasonally from Easter - October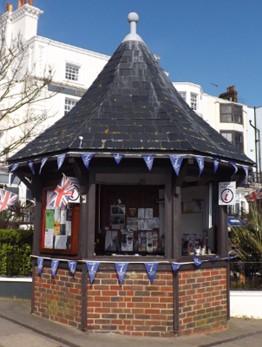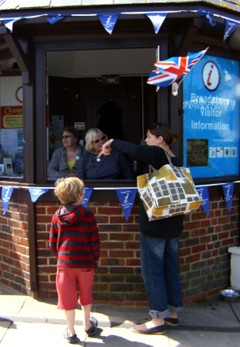 Ramsgate Information Centre at The Customs House 
reopen from Monday 17th May 
The Ramsgate Information Centre, at Customs House, is supported by Thanet Visitor Information Service and funded and operated by Ramsgate Town Council.
In addition to supplying visitors with information, the trained volunteers take bookings for transport providers and agencies including National Express and Carol Peters.
To find out more, contact the Visitor Information Centre Co-ordinator
Email: ramsgatevic@gmail.com

Tel: 01843 598750
Customs House
Harbour Parade
Ramsgate
CT11 8LP
Open daily from Monday 17th May 10am-4pm until end of September. October to March open daily 11am-3pm