The majority of current visitors to Thanet come for the day – half of them travelling from home and another quarter from a holiday base elsewhere. Most visit in the summer, with a significant peak in August.
One third of Thanet's visitors are families with children – the rest are adult-only couples and groups. More than half of Thanet's visitors are under 45 years old.
Around half of Thanet's visitors are in the socio economic groups ABC1 – this is typical for seaside resorts in the UK, but low compared to holiday destinations generally. Probably related to this, Thanet's visitors have a lower spend per head than the average for visitors to Kent destinations.
Within this profile, Thanet attracts international students – a niche and important existing market – that contribute to the younger profile of Thanet's visitors and generate an estimated £30 million to the local economy. International students are important ambassadors for the area and are potential future repeat visitors.
Day visitors are important for Thanet businesses but to extend the impact on the local economy, Thanet needs to attract more staying visitors– those who will spend money on accommodation and also in restaurants and shops and support the development of more quality and character retail and accommodation. And – to get businesses on a firm footing, able to invest and offer quality, year-round jobs – visitors are needed throughout the year, not only in the summer months and school holidays. That means Thanet needs to attract more people who are free to visit outside peak times. This does not mean that others will not come; it is a question of where to focus resources to make a difference.
CURRENT VISITORS
3.1 million p.a.
75% are day visitors
66% are adult-only couples & groups - higher in Ramsgate, lower in Broadstairs
Most are from the UK – less than 10% come from overseas
By far the strongest reason to visit is the seaside/ beaches
Most travel here by car
Most visit in the summer – with a significant peak in August
From: TDC Thanet Visitor Survey 2010 & Visit Kent DMP Research 2012
There are clear opportunities for Thanet to reach out to new markets:
The 'staycation' effect – the steep rise in numbers of British people now taking leisure breaks in Britain – offers the chance to attract new visitors, as long as the offer is right.
Visit Kent's new research into the perceptions of thousands of people – visitors and non-visitors who live outside Kent, both in the UK and in near Europe – show increasing recognition that the county has a "stunning coastline" and high awareness in the UK for Margate (86%) and Ramsgate (81%).
But there are challenges. These visitors and potential visitors do not see the seaside towns in Thanet as places that are "year round" or "natural"; and they single Margate out as "tacky".[2]
Some of these negatives are to do with general attitudes to the English seaside. Seaside destinations are losing market share to city breaks and trips to the countryside. The seaside tends to attract fewer high-spending visitors and more families with children, than other types of leisure destination.[3] VisitEngland say that the British are prejudiced against seaside resorts, seeing them as "tacky, dirty, dated and faded".[4]
VisitEngland also says that people are interested in "the English coastline" as somewhere to get away from it all, slow down, go beachcombing and for walks – places where you can discover bays, fishing villages and buy local produce and seafood. The idea of "seaside towns" appeals too - places with more to do, local history, places of interest and places to eat and drink.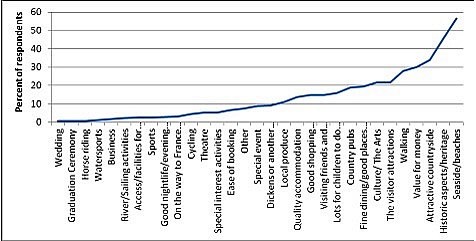 Factors influencing people's decision to visit Thanet: seaside/beaches is number 1, followed by heritage, attractive countryside, and value for money. Visit Kent DMP Research 2012
Successful seaside destinations are the places that deliver these experiences. Thanet needs to focus on improving and developing these aspects.
Among potential growth markets for coastal destinations, VisitEngland has identified younger people – especially pre-families – living in London as least affected by the recession and most optimistic about their holiday plans (while other people are currently cutting back on leisure breaks). They want to take staycations, but know very little about the coast within easy reach of home, compared to a very few "iconic" places such as Cornwall and are looking for inspiration and information.[5] We also know that busy people want to get the most from their short breaks, spending time and money enjoying the break, rather than on travelling there.
Thanet is well placed to tap into this opportunity because of its fast rail connections with London. However, as high-speed rail also makes Thanet an easy day trip destination, it will be important to position Thanet as a place with enough things to do to justify staying a night or more and to deliver on that promise.
Below is a profile of this market; it uses VisitEngland's research and niche of young Londoners already visiting Thanet (identified in Visit Kent's DMP Research 2012). This should be a primary target for Thanet because some of these types of people are already visiting, research shows they are a growth opportunity and much of the recent and planned investment in the visitor economy in Thanet is likely to appeal to them. Importantly, getting the experiences and messages right for these people will have a wider impact on other markets (who aspire to follow these early adopters).
[2] Visit Kent Perceptions Study 2012
[3] VisitEngland research re different holiday destinations types 2011
[4] VisitEngland Staycation Focus Groups 2012
[5] VisitEngland Staycation Research 2012
What targeting this market will mean
Targeting this market means 'joining-up' what's on offer across the district so that Thanet presents a critical mass of experiences that suggest somewhere with enough to do for a short break - from cultural attractions and eclectic shopping in Margate, to waterfront restaurants and bars in Ramsgate and Broadstairs, to watersports and trails around the coastline. That requires stronger partnership working between businesses, including on marketing and promotion.
These are cultural consumers, it will be important to support, further develop and promote the contemporary cultural scene – especially arts events and live music, galleries and 'edgy' independent retail. They are ethical, green consumers, looking for something different, so there needs to be an emphasis on developing and supporting more independent businesses. Thanet already has a strong independent sector; this market can help support a greater critical mass.
They are sophisticated consumers with comfortably-off city lifestyles; there needs to be a focus on developing contemporary quality when it comes to accommodation and food and drink. They are physically active, so it will be important to develop and promote the opportunities to get a 'fresh-air fix' easily on a short break. As green consumers, public transport users and 'early adopters', joint promotions with the rail operators – especially hi-speed trains – will be important.
Excellent online presence is essential for this market – that means a distinctive website with good search engine optimisation, designed for tablets and mobiles, with rich visual and audio content, live updates from social media and links through to other online media channels. PR needs to promote the idea of a place that is changing and 'on the up'.
WHO ARE THEY?
Living in London – in their 20s to early 40s.
They have money to spend.
They take several holidays and short breaks a year – usually without a car.
They are 'early adopters' – always looking for the next new thing and juggling their busy lives.
They enjoy physical activities, culture and independent shops/bars/restaurants.
WHY THESE PEOPLE?
There are 1.2m living in London (so a big potential market on Thanet's doorstep)
VisitEngland has identified them as least impacted by recession and most optimistic about their holiday plans – other segments are cutting back on leisure breaks
VisitEngland has identified these types as interested in staycation, especially post Olympics
They take very high numbers of short breaks (though they are probably less likely than older markets to repeat – but they will recommend to friends and colleagues if Thanet can satisfy their expectations)
They are less budget-conscious than older markets – they will support Thanet's higher quality independent businesses, and so strengthen and sustain improvements to the offer
As city-dwellers, they will not be alienated by urban decay – they will see past it
The message about a car-free escape, plus the high-speed trains, will be attractive to them
They will be attracted by the idea of watersports and other outdoor activities
They will travel year round (albeit it will be largely weekend rather than weekday)