"Margate's going from strength to strength... it's going to take off big time..."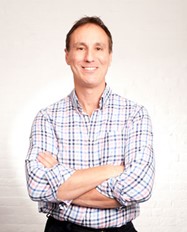 When Nick Conington bought a run down property overlooking the wide sweep of Margate's beach, he had no plans to open a hotel. His original idea has been to convert his new acquisition into apartments. But this idea soon got overtaken by an altogether more ambitious scheme to open a contemporary, stylish boutique hotel.
After opening in 2013, just twelve months later, the hotel has several accolades under its belt, proving that the original hunch was spot on – the time was right for high quality hotel accommodation in Margate. Designed to reflect the colours of the seascape, the hotel's aqua tones and its wonderful full length windows connect the inside of the hotel to the fabulous Margate canvass outside.
The Sands has 20 rooms with a glamorous lobby, cocktail bar and restaurant looking out over Margate's seascape. There's a private rooftop bar for residential guests, a function room and, at beach level, there's the wonderful 'Melts' ice cream parlour run by Nick's daughter, Lucy.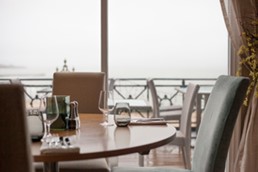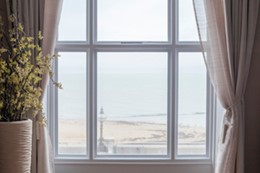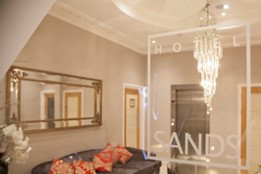 Nick acknowledges the significance of the Sands Hotel in the re-branding of Margate and to that end, he's completely passionate about using locally sourced produce in the hotel's Bay Restaurant. The Sands' workforce is also local and an active in-house training programme guarantees sure of the consistently high standards needed in a luxe environment.
The Sands Hotel is busy all year round. Good travel links to London mean the hotel attracts week-end and short break visitors from the capital and beyond, while local visitors keep the bar and restaurant busy. Word of mouth is proving a great way to build business locally, while great reviews in a wide range of popular titles is raising profile nationally.
The success of the Sands Hotel has confirmed to Nick that Margate is a place of real commercial opportunity and an enticing proposition for investment. With business partners, Nick's next venture, as Sands Heritage Ltd is to operate Margate's iconic Dreamland.
"We expect visitor numbers to grow substantially in the next few years.." 
Sands Hotel
Marine Drive, Margate, Kent, CT9 1DH
01843 228228
www.sandshotelmargate.co.uk